Name: Mgr. Tomas Walla, DiS.
Workplace: I. orthopedic clinic 1. LF UK and FN Motol, Ortopedie JIP
Born: 1985, Kladno
Graduated from: VŠZaSP majors Public Health and Nursing, SVOŠZ major Graduated Paramedic
Career idea: To help others.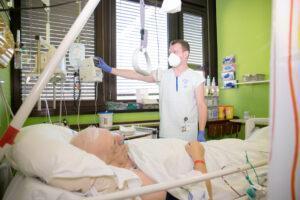 Most popular activity: running, traveling, hiking
The idea of ​​an ideal holiday: mountains, exploring new countries
Favorite book/movie: trilogy Millennium, Everest
Life motto/credo: I have no
When did you decide to become a nurse and who or what led you to this idea?
Already in elementary school, I attended first aid courses organized by the Red Cross. We took part in the Young Health Professionals competition several times. After failing the entrance exams for promotional design, secondary medical school was the obvious choice.
Do you remember your first working day at FNM?
Yes, I remember him exactly. I joined the Traumatology Intensive Care Unit, which I had already attended at school. The working reality was in many ways different from the school practice. Many new things, administration and classic noise in the department. I was very lucky to have a work team, thanks to which I started to enjoy working in the ICU.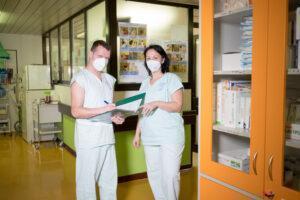 You work at the XNUMXst Orthopedic Clinic. What brought you to this field?
I joined the Traumatology ICU, which previously belonged to the Surgical Clinic of the 2nd Faculty of Medicine of the Faculty of Medicine of the UK and FNM. Around 2009, it became part of the 1st orthopedic clinic of the XNUMXst Faculty of Medicine, UK and FNM. As part of personnel changes and the opening of a new orthopedic intensive care unit, I became a member of the newly formed team. This year I accepted the position of station nurse after being offered. I accepted the new position because of the wonderful team of nurses and doctors. I also appreciate the good cooperation with the head nurse. Caring for orthopedic and trauma patients is very diverse, which is why I am interested in this field.
What qualities and prerequisites do you think a person who decides for this profession should have?
He should definitely be willing to help others. Empathy and communicativeness are very important. It is a demanding profession both mentally and physically.
Do you remember any patient who pleased or amused you the most?
Every day I am pleased to thank and smile from our patients. This week we were especially pleased with the package of wishes and little things for Christmas from children from elementary school Hanspaulka.
How do you relax, what do you think is the best rest?
The biggest relaxation for me is a hike in the mountains or sitting with a coffee in a nice cafe while visiting abroad. By attending cultural events, I will not only relax, but meet my friends.
What was your biggest childhood dream?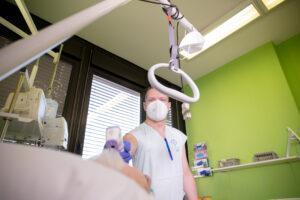 Unfortunately, I don't remember that, but I hope it was at least a year's school holidays.
Do you have a guaranteed recipe for stress management?
Running and walking in the woods guaranteed.
When was the last time you laughed from the heart?
Everyday work with people brings a lot of situations not only for laughing. Guaranteed to have a hearty laugh with my little three-year-old niece.
Is there anyone who is life inspiration for you?
Family and friends.
text: Mgr. Tomas Walla, Dis.
photo: David Černý