Basic information
The department consists of two parts:
children's emergency (LSPP children) and children's income
EMERGENCY
Our patients are children aged 0 to 17 years +364 days, with acute health problems. They come most often accompanied by parents to the children's emergency room, or are brought by ambulance to the emergency room, if they are foreigners, who are then treated at the children's foreign clinic on weekdays. In total, we treat over 30 children a year.
Management and staff
Primary:
MD Jitka Dissou, MBA
tel.: 224433601
jitka.dissou@fnmotol.cz
Head nurse:
Mgr. Ing. Monika Vilimova, DiS.
tel.: 224433605
Station nurse
Jana Zacpalová
tel .: 224433633, 224433652
Doctors:
MD Michael Ághová
MD Hana Bartošová
MD Pavel Boček
MD Michaela Cibulová
MUDr. Sylva Draxlova
MD Lucie Filipovská
MD Dominika Konstantinová
MD Jitka Krausová
MD Šárka Kusáková
MD Peter Lux
MD Anna Marková Klugerová
MD Tereza Matuszczyková
MD Lucie Melounová
MD Julia Miklošová
MD Monika Šebejová
MD Marie Tyburcová
MD Miroslava Zimova
Nurses Children's emergency room
Station nurse: Jana Zacpalová, tel: 3626
Marcela Berglová
Cermáková Miroslava
Bc. Greizinge Jana
Marcela Havlíčková
Hemza Michal DiS.
Bc. Hronová Barbora DiS.
Bc. Friend Martin
Kateřina Nelevová
Nesverova Eva, Dis.
Bc. Novaková Blanka
Dude Daniel
Roubova Stanislava DiS.
Bc. Teleky Lea
Cheerful Lucie
Nurses Children's emergency
Aksmanová Blanka
Bufkova Ivana
Burminova Lenka
Bc. Black John
Margareta Devault
Grandpa Teresa
Dušková Sylva
Faltová Ludmila
Fráňová Ivana
Bc. Garlic Martin
Jirásková Jitka
Bc. Kafka Daniela
Kasslova Lucia
Pavel cage
Kobylková Alena
Bc. Michová Gabriela
Míková Veronika
New Denisa
Bc. Slaminkova Julia
Singer Ivana
Gray Michal
Bc. Anna Štorchová
Vrbová Jana
Wischova Dita, Dis.
Zelníčková Nadezhda
Nurses
Brabcová Helena
Vozabova Sandra
Orderly
Petr Dufek
Children's emergency, children's reception
Child Emergency (LSPP Children)
Office hours: Po - Fri 16:00 - 7: 00,
Sat, not non-stop

Phone: 22443 3653, 22443 3652
Location: on the lower ground floor E
For children with acute deteriorating health.
Ambulance:
Pediatric
Surgical
Orthopedic
ORL
Dental surgery
Ocular
Neurological
Emergency fee: 90 CZK
(fee is payable on weekdays from 16:00 to 7:00, Saturday, Sunday and public holidays all day)
Office hours: Mon - Fri 7:30 - 16:00
Tel .: 22443 3652, 22443 3653
Location: same as LSPP children
Ambulance: Pediatric
EMERGENCY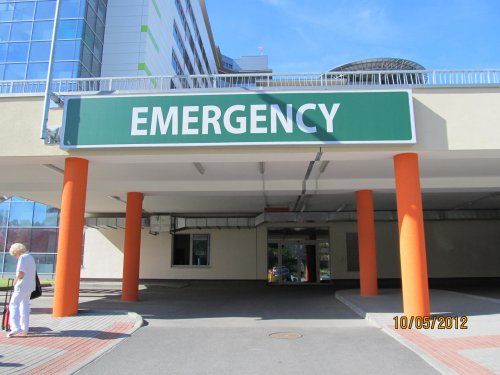 Since September 2011, the children's emergency reception, the so-called EMERGENCIES.
We accept all pediatric patients brought by ambulance to the Motol University Hospital with acute health problems - internal and accidental.
The scope of our work is: taking over the patient from RZP, RLP, LZS, evaluation of the child's condition, quick diagnostics (laboratory and imaging, available to all children's specialties), acute treatment, according to the child's condition follows-
1 / transfer to the care of a specialist (hospitalization or outpatient treatment)
2 / observations on urgent admission
3 / dimise.
Available: 2 examination beds, 4 observation beds and 1 KAR box.
Telephone: 22443 3650 XNUMX (used to communicate with the emergency services dispatch center)
Location: SPD (lower ground floor, node D)
Donation account
A natural or legal person can become a donor. Donations can be made in kind or financially. It is not necessary to draw up a donation contract for financial donations up to CZK 5; if a financial donation of more than CZK 000 is accepted, a donation contract must be concluded between the donor and FN Motol.
account number: 50008-17937051 / 0710
variable symbol: 2194
Phone Numbers
Child Emergency (LSPP) - phone: 22443 3653, 22443 3652
Children's emergency reception - tel. 22443 3650
Where to find us
Child Emergency Services (LSPP), Child Reception - LSPP - lower ground floor E in the children's section, at the level of parking lot P4, at the orange pillars entrance on the right
Children's emergency reception - SPD (lower ground floor, node D), at the level of car park P4, entrance on the left by the orange pillars