Basic information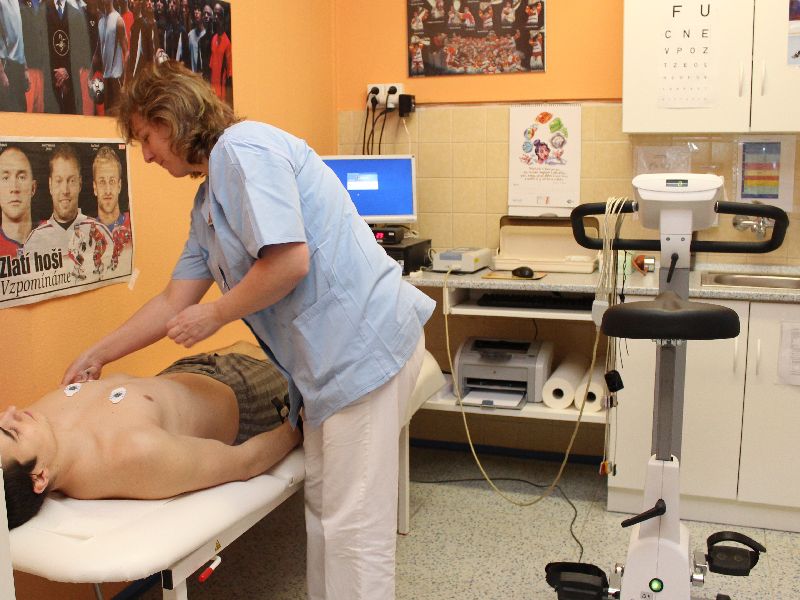 The Department of Physical Education Medicine (formerly the Clinic of Physical Medicine of the 2nd Faculty of Medicine and FN Motol) is one of the outpatient departments of the Clinic of Rehabilitation and Physical Education. The content of the activity is mainly functional diagnostics for almost all age groups, from preschool children to the elderly.
The functional diagnosis is followed by movement therapy programs aimed especially at patients with developed civilization diseases within the so-called metabolic syndrome (ischemic heart disease, high blood pressure, type XNUMX diabetes, elevated blood fat levels). Other programs are aimed at patients with chronic respiratory diseases, to improve fitness before planned surgery (replacement of large joints, hernias, reoperation for congenital heart defects). An exercise regimen is no less important in the prevention of these diseases, especially if it is supplemented by an intervention in the area of ​​eating habits, as is the case in our department.
The department also provides preventive sports examinations for individuals and entire sports clubs, examinations to determine fitness and optimize training, some specialized sports examinations and nutrition counseling.
Primary
doc. MD Jiří Radvanský, CSc.
e-mail: jiri.radvansky@fnmotol.cz
Secretariat
e-mail: klin.tel.lek@fnmotol.cz
phone: 224 435 511
Specialization
The Department of Physical Education Medicine (formerly the Clinic of Physical Medicine of the 2nd Faculty of Medicine and FN Motol) is an outpatient part of the Clinic of Rehabilitation and Physical Education Medicine. The content of the activity is mainly functional diagnostics for almost all age groups, from preschool children to the elderly. The functional diagnosis is followed by movement therapy programs, advice on regime changes and modification of eating habits.
Main focus of the workplace:
children and adults with congenital heart disease or after its surgical correction (stress diagnostics, cardiovascular rehabilitation, improvement of the condition before the planned (re) operation),
stress functional diagnostics in children and adults (ergometry and spiroergometry on bicycle ergometer and on treadmill, winch ergometry, respiratory diagnostics),
functional diagnostics within the preoperative examination (especially thoracic surgery, large abdominal operations, solid organ transplantation) and within the indication of biomechanical prostheses,
advice on an adequate exercise regime for children and adult patients with chronic diseases or restrictions on physical activity,
within the framework of cooperation with the Children's Cardiocenter of the super council of care for child and adolescent athletes with cardiac disease (Sports Cardiology Center for Children and Adolescents),
counseling for chronic exertional dyspnea (in patients and otherwise healthy athletes),
exercise therapy (metabolic syndrome, cardiovascular disease, chronic respiratory disease, improvement of condition before surgical procedures - hernia/abdominal wall plastic surgery, large joint replacement, patients with oncological diseases and others),
nutritional interventions in patients,
preventive examination of athletes (prevention, determination of fitness, including VO2max and ventilation anaerobic threshold, lactate curve, physiotherapy, nutritional counseling, correction of running technique and other activities, sports ergonomics),
sports-specific diseases (energy deficit syndrome, overuse syndromes and others).
Preventive sports inspection is carried out at the request of an athlete (legal representative), club or sports association. No request for a doctor is required. Examination is not covered by health insurance, however, insurance companies usually contribute to the examination in return as part of benefit programs. The validity of the issued medical fitness certificate is set by law for a maximum of 12 months. The total examination time is approx. 30-45 minutes.
Ordering: on telephone number 224 435 511
on weekdays 6:30 - 10:00 a.m.
Where to find us:
Building No. 9 (a single-storey building outside the main monoblock, adjacent to the FN Motol kindergarten) - after entering the building, the first door on the left ("sports tours").
telephone to the ambulance (building no. 9): 224 435 511
Bring with you for the examination:
sportswear and footwear, ev. towel
in case this is the first visit to us - extract from medical records from the registering general practitioner
in the case of regular visits to specialist clinics (eg cardiology, neurology, orthopedics, rehabilitation ...) - last report from these ambulances
in the case of a motorsport inspection - a morning urine sample
payment of the sports tour: it is possible to pay by card or in cash
the prices of sports tours are fixed price list
In the case of an inspection with a minor athlete, the presence of a legal representative is required.
Equipment of the device
It is equipped with devices for non-invasive functional stress diagnostics at the top international level. It is possible to test patients and healthy people in a wide range of age (from children to seniors), weight (from about 20kg to 180kg or more), performance (from functionally severely limited patients to top athletes) and the state of the locomotor system (including patients with restricted movement in the load-bearing joints, after amputations, etc.).
The workplace has various types of ergometers for examinations in dynamic loads:
bicycle ergometer incl. modifications for children (from a height of about 125cm),
treadmill (treadmill) for adults (up to approx. 150 kg) and for children,
crank ergometer (winch),
rowing machine Concept2.
We also perform an orthostatic test on a folding bed and a handgrip test (static load).
We commonly use a wide range of diagnostic devices and methods such as:
resting and exercise ECG,
analysis of exhaled air using fast analyzers, we have the possibility of examination using canopy and Douglas bags (CPET - oxygen consumption, CO2, minute ventilation ...) including the possibility to set a ventilation anaerobic threshold,
spirometry, flow-volume curve at rest and in load to assess flowlimitation and hyperinflation, bronchodilation test, test to detect exercise bronchospasm, examination of respiratory muscle strength (RMT),
pulse oximetry (SpO2),
manual dynamometry (handgrip test),
24-hour blood pressure monitoring (ABPM),
24-hour - 5-day recording of heart rate and ECG in field conditions,
lactate test (Lactate Plus),
bioimpedance determination of body composition (Bodystat QuadScan 4000) and calibration,
bedside transthoracic ECHO and selected ultrasound examinations especially of soft tissues,
Doppler probe for peripheral vascular flow, PWV, ABI, TK gradient between HK and DK.
Blood pressure in the load is generally measured by an experienced nurse / doctor.
Some examinations are very time consuming and therefore we perform them only after prior agreement with the sending doctor / patient.
History
The history of the physical education clinic dates back to 1962, when the department of physical education medicine was established (at the FDL department of pediatrics), which also included rehabilitation, which did not yet exist as a separate field at that time. Prof. also attended the department at that time. V. Vojta, who developed the rehabilitation of children with DMO. After the children's clinic moved to Motola in 1969, the departments of physical education medicine and rehabilitation were separated. The rehabilitation department was then headed by prof. for almost 20 years. MD M. Máček, which is, of course, also intrinsically connected with the clinic of physical education medicine. From 1992 to 1999, the clinic was managed by prof. MD M. Kučera. In recent years, both clinics, i.e. the clinic of rehabilitation and the clinic of physical education medicine, were again merged into the Clinic of Rehabilitation and Physical Education Medicine.
Contact
Primary:
doc. MD Jiří Radvanský, CSc.
tel .: 224 439 432
(contact intended mainly for referring doctors and for consultations)
e-mail: jiri.radvansky@fnmotol.cz
secretariat: klin.tel.lek@fnmotol.cz
Station nurse:
Martina Procházková
Appointments for examinations by phone on working days 6:30 - 10:00 a.m.
phone: 224 435 511
ordering exercise therapy tel.: 224 435 533
Doctors
MUDr. Vojtech Illinger
MUDr. Daniela Ondrichova Novakova
MD Martin Opočenský, Ph.D.
MD Jan Pokorný
MD Michal Procházka
doc. MD Jiří Radvanský, CSc.
MUDr. Sylvie Richter
MD Kryštof Slábý
Physiotherapists
Eliška Dařbujánová, Dis
M.Sc. Klára Kučerová
M.Sc. Michaela Ulrichová, Ph.D.
M.Sc. Marie Vitujová
M.Sc. Daniela Janáková
Nutritional therapist
Mgr. Marie Vitujova (Joachimova)
Movement therapist
Bc. Ondřej Růžek