Emergency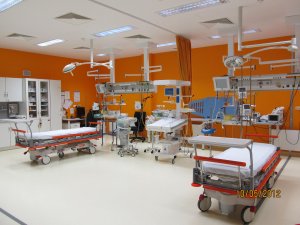 In Semtember 2011 new departement called Pediatric Emergency was established.
With medical equipment designed specifically for children, Emergency is available 24 hours a day and is supported by a broad range of pediatric medical and surgical subspecialties.
We are able to handle even the most complicated, life-threatening cases 24 hours a day .
After the receipt of patients from ambulance, including air ambulance, we:
evaluate the clinical status
make a brief diagnostic (using laboratory, imaging and pediatric subspecialties)
perform acute treatment
and than we:
transfer the child to the pediatric subspecialties – hospitalization or outpatient treatment
observe on the emergency department
discharge
There are 2 investigation beds, 4 observation beds and resuscitation box.
Telephone: +420 22443 3654 , +420 22443 3650
Fax. : +420 22443 3621
Where you can find us: SPD (low - ground floor, building D)