Department of Medical Microbiology, 2nd Faculty of Medicine, Charles University in Prague and Motol University Hospital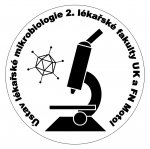 Our department provides an extensive routine bacteriological, virological and parasitological diagnosis. We use a wide range of direct and indirect laboratory methods. Among other we focus on a complete demonstration of Helicobacter pylori as well as on diagnosis of Burkholderia cepacia in patients with cystic fibrosis. We also do a complete analysis of Clostridium deficient genotype characterization, including the characterization of cytotoxines or on an early detection of serious nozocomial pathogens in general.
We place great emphasis on appropriate interpretation, which of course includes guidance and consulting activities. Our department includes an antibiotic center, which strives for bringing the principles of rational antibiotic treatment into practice.
History
The department of the Institute of Medical Microbiology, which serves as an instruction base for students of the 2nd Faculty of Medicine of Charles University, as well as for the microbiological laboratory diagnosis for the purposes of the University Hospital Motol was founded in 1970. Its foundation is connected with the personality of prof. Vladislav Potužník. His colleague was another prominent microbiologist, doc. Otto Lochmann. They both highly contributed to the idea of microbiology as a modern profession with an emphasis not only on a knowledge-based laboratory diagnosis, but also on a solid relationship with clinical disciplines. They emphasized the importance of the form of both interpreting and consulting activities. They contributed a lot to the idea of the present antibiotic treatment.