Allow us to welcome you to the pages of III. surgical clinics of the 1st Faculty of Medicine of the UK and the FN Motol, which should provide you with a basic overview of the structure, the care provided, the teaching of students in pre- and postgraduate education and the scientific research activities of our workplace.
We are the only workplace in the Czech Republic that performs lung transplants, our clinic provides complete specialized care in the following areas:
Thoracic surgery
• Lung surgery
• Tracheal and respiratory surgery
• Lung transplantation
• Oesophageal surgery
• Surgery of the mediastinum and myasthenia gravis
• Surgery of the chest wall and chest deformities
• Minimally invasive videothoracoscopic techniques
• Robotic lung surgery
Abdominal surgery
• Surgery for reflux disease of the esophagus, diaphragmatic hernia, achalasia of the esophagus
• Stomach and small bowel surgery
• Surgery of the liver, bile ducts and pancreas
• Colon and rectal surgery
• Hernia surgery
• Minimally invasive laparoscopic techniques
• Robotic bowel surgery
Soft tissue sarcoma surgery
Endocrine surgery
• Parathyroid and thyroid surgery
Lower limb varicose vein surgery
Very close cooperation with other specialized clinics and departments of the Motol University Hospital and the possibility of cooperation and consultation with foreign specialists guarantees the provision of care at the highest possible level and access to the most modern methods, procedures and technical equipment.
The task of our team is to provide the best possible combination of care for our patients, teaching and scientific work.
Our main goal is to make III. The surgical clinic of the 1st Medical Faculty of Charles University and the Motol University Hospital was a place where a sensitive and personal approach to patients is a matter of course and top medicine is a common standard.
We really appreciate your interest in the care provided at our clinic.
Prof. MD Robert Lischke, Ph.D.
Location:
Adult section
Blue pavilion, communication node C
Inpatient department: 1st floor, node C
1st department - nurse tel .: 224 438 030
2st department - nurse tel .: 224 438 033


Transplant department + ICU - nurse tel .: 224 438 031 - 32
Ambulance: ground floor, node C
file tel .: 224 438 078
ambulance tel .: 224 438 070 - 74
Intensive Care Unit: -2 floor, node C
sister phone: 224 438 037 - 40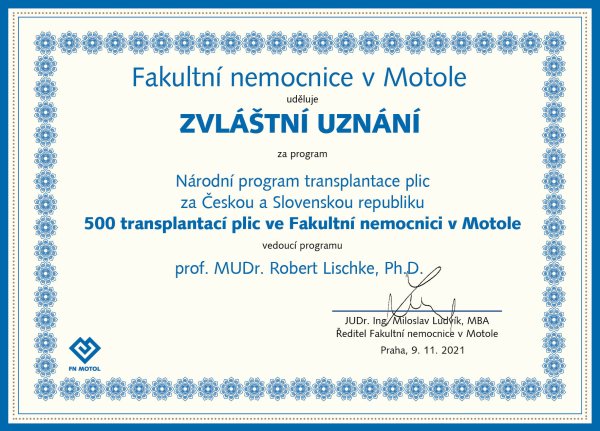 In Motol, the lungs of a patient were transplanted for the first time after COVID ‑ 19