Recommendations for persons who have been ordered with isolation / quarantine
The aim of these measures is to prevent the spread of infection among other people. In the case of a positive result on SARS-CoV-2, you will receive information that you must adhere to isolation.
What is insulation?
Insulation or self-insulation means staying at home or in a designated area in one dedicated, adequately ventilated room, ideally with its own toilet. This measure must be observed for the duration of the symptoms of the disease and for the entire prescribed period.
Observe the following rules in home insulation:
Limit any visits.
Only household members should stay at home.
Separate yourself from other people in the household.
Protect other members of the household, use face masks if you are in the same room with them.
Isolate in a well-ventilated room with the possibility of opening a window.
If you do not have a separate toilet, an isolated person should thoroughly clean all contact areas after each use of the toilet.
Use only your own towels, toiletries, kitchen utensils, glasses, bed linen or other household items commonly shared in the household.
Ask friends, neighbors, or social workers for help with necessary errands, such as shopping for groceries and medications.
Avoid direct contact when communicating with people, for example, have your grocery delivery delivered to your door.
Wash hands before and after any contact with other people. Use hand disinfectant.
Follow your GP's instructions and call him if your condition worsens.
If you have been in epidemiologically significant contact * (* less than 1.5 m, for more than 15 minutes, without the use of face masks) with a Covid-19 positive person, but are currently healthy and showing no signs of illness, quarantine is ordered.
What is quarantine?

Quarantine is a restriction on the free movement of persons for a specified period. It is mandatory and usually takes place at home.
Observe the following rules in the quarantine:
Stay at home (ie don't go to work, school or public places).
Watch for signs of Covid-19 - especially high fever, cough or difficulty breathing. If these symptoms occur, contact your GP.
If you experience cough, fever and difficulty breathing, use face masks to protect the people around you from infection.
If possible, arrange with your employer to work from home.
Clean and disinfect your home, especially frequently used surfaces and toilets.
Ask friends, neighbors, or social workers for help with necessary errands, such as shopping for groceries and medications.
Keep in touch with family and friends by phone, email or social media.
Obtain information about Covid-19 only from trusted sources:
www.mzcr.cz
www.szu.cz
www.hygpraha.cz
Leaflet created by the Medical Rescue Service of the capital of the City of Prague in cooperation with the City of Prague of Prague.
Epidemiological situation
Monoclonal antibodies (Regeneron) - indications and applications
The product is intended for patients at risk of severe covid-19 disease. Administration is necessary at the beginning of the disease, which was confirmed by a positive test for SARS-CoV-2 and in the presence of maximally mild or moderate symptoms that do not last longer than 7 days (administration is appropriate as soon as possible). The product can also be administered to asymptomatic patients if they meet the indication criteria.
Prophylactic administration is also possible in persons who have been exposed to an infected person and therefore at risk of infection, if they belong to the group of unvaccinated persons or it can be assumed that vaccination has not achieved a full immune response and is at high risk of severe disease.
Patients for whom this type of treatment will be suitable must meet the indication criteria given by the Decision of the Ministry of Health of the Czech Republic. These include, for example, all patients over the age of 65, patients over the age of 55 with an associated disease (high blood pressure, obesity), transplant patients, oncology and hematooncology patients with ongoing treatment, patients with autoimmune diseases and immunodeficiency, lung diseases, patients with diabetes of any type on pharmacological treatment, a number of diseases treated with immunomodulatory drugs (eg rheumatological, neurological and other diseases), patients with BMI (body mass index) ≥ 35 and other selected groups of patients at risk.
Patients can be indicated for the administration of REGN-COV2 by both general practitioners and outpatient specialists, as well as hospital physicians.
Application at the infusion site:
Entrance interview with a doctor
The patient hands over the completed Indication Sheet and extract from his / her documentation (epicrisis) to the doctor and is acquainted with the information related to the product and its administration.
Infusion of the drug
It lasts about 30 minutes, the infusion volume is 110 ml.
Monitoring after infusion
The patient remains in the infusion center for at least another 30 minutes for observation.
Information for doctors:
The application works best after downloading in Adobe Reader.

Ministry of Health of the Czech Republic (including the list of infusion sites in the Czech Republic)
Doctor's phone number: 606 671 495 (Mon - Fri: 7 am - 15:30 pm)
Where to find us?
University Hospital in Motol
In Úval 84
Prague 5
150 06
Department of Pulmonology, Building No. 21, 8:00 am - 15:00 pm
Important note: Access to the Pneumology Clinic building is different for these patients than for other patients. It is necessary to use the rear entrance to the building !!!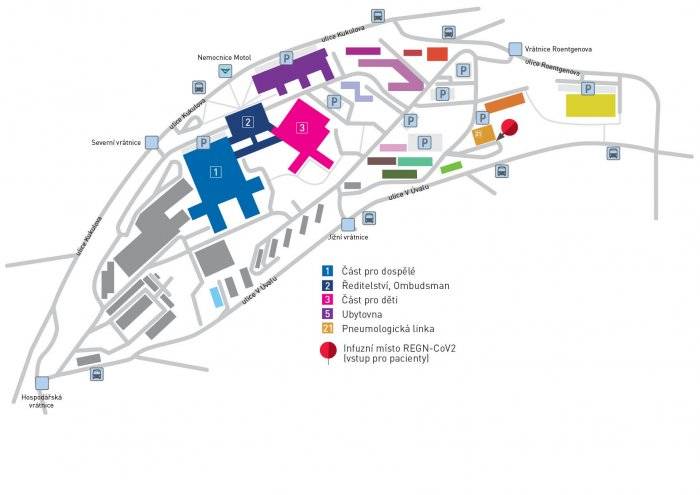 If the patient arrives in his own vehicle (or is brought by a passenger car), he must not park at the entrance to the building. This would block other arrivals, including ambulances, supplies, loading drugs, oxygen, etc. Thank you for your understanding.
Casirivimab-imdevimab, also known as REGN-COV2 (manufactured by Regeneron / Roche), contains two monoclonal antibodies against the so-called S-protein (spike protein) of the new coronavirus SARS-CoV2. S-protein is a viral protein that allows the virus to bind to the target site of host cells (in our case in humans) and thus infect and multiply. It is the same protein that our body actually "produces" after receiving mRNA vaccines, triggering the vaccinated person's own immune response to make antibodies.
However, unlike vaccines, casirivimab-imdevimab works immediately by binding to virus targets. This is because each of the antibodies binds to a different site on the S-protein. This prevents it from infecting the cells and multiplying further.
Information for patients: