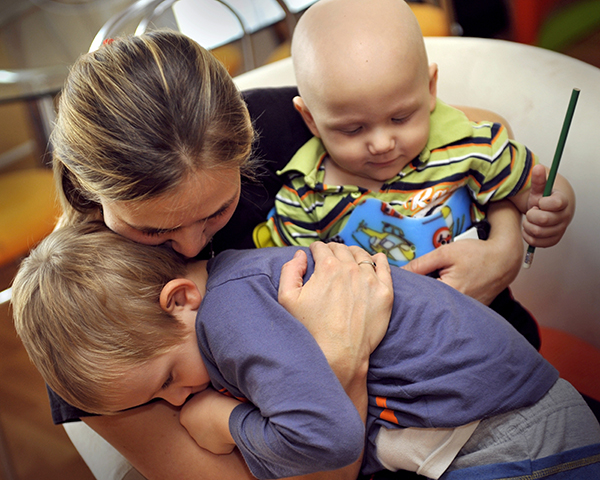 And what about seriously ill children?
Is there palliative care for pediatric patients as well? Yes, palliative care is, of course, also intended for pediatric patients who suffer from so-called life-threatening or life-limiting diseases. Pediatric palliative care should be started at the time the disease is diagnosed and continued regardless of whether the child is being treated for the disease. Care is provided for the child and his family. Life-limiting disease in children is defined as a condition in which treatment for the cause of the disease is not possible and where premature death is common, such as Duchenne muscular dystrophy. Life-threatening illnesses are those with a high probability of premature death due to a serious illness, although there may be a chance of long-term survival into adulthood, for example in children undergoing cancer treatment or admitted to intensive care after a serious injury ( Craig et al., 2007). If there is a chance of cure, the child should be in the care of his or her caring specialist and the palliative care team at the same time. If the disease does not respond to treatment, the palliative care team continues to care for the child patient and his or her family, and gradually takes over the care. The sharp transition between so-called curative treatment (ie treatment aimed at curing the patient) and palliative treatment can be traumatic for the child and his loved ones, as they may have the impression that handing over to palliative care means end, failure, hopelessness, death. On the contrary, the early integration of palliative care brings long-term assurance of the best possible quality of life for the patient, even during intensive curative treatment (Kaye, Friebert, & Baker, 2016). Palliative care should also be offered to parents whose unborn child has been diagnosed with a serious, life-threatening illness.
Providing child support and palliative care at the Motol University Hospital
As a tertiary-type hospital, the Motol University Hospital has several thousand children with a diagnosis of a life-threatening or life-limiting disease that would benefit from specialized palliative care. These are typically pediatric patients with congenital malformations, chromosomal abnormalities and congenital malformations, severe neurological impairment and, last but not least, children with an oncological diagnosis. At the moment, the care of a seriously ill child is provided by a specialist in the field, who addresses the medical aspects of the disease at the highest level and recommends the patient to the staff of the Support and Palliative Care Team. The psychosocial needs of the child patient and his family are then led by a palliative team - the team psychologist takes care of the sick child, his siblings and parents, the team social worker provides social counseling and economic support to the family, the team chaplain offers spiritual care, and so on.
References: Craig, F., Huijer, AS, Benini, F., Kuttner, L., Wood, C., Ferraris, PC, & Zernikov, B. (2007). IMPaCCT: Standardsforpaediatricpalliative care in Europe. EuropeanJournalofPalliative Care. https://doi.org/10.1007/s00482-008-0690-4Kaye, EC, Friebert, S., & Baker, JN (2016). Early IntegrationofPalliative Care forChildrenwithHigh-Risk Cancer and TheirFamilies. PediatricBlood and Cancer. https://doi.org/10.1002/pbc.25848