Ambulance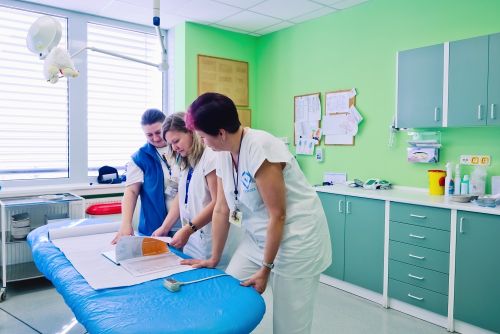 The outpatient department of the clinic includes several outpatient clinics for newcomers, children in ongoing treatment and for long-term patients.
The outpatient clinic is visited by children whose health condition allows for regular outpatient check-ups and does not require hospitalization.
Outpatient monitoring also includes the care of patients who have successfully completed treatment and whose regular check-ups will enable early detection of a possible relapse of the disease (so-called dispensarization).
We also lead children in outpatient care several years after the end of oncological treatment, in whom we monitor the possible late consequences of therapy.
Our workplace also includes a specialized outpatient clinic for children after bone marrow transplantation, an outpatient clinic for patients with hemangiomas, a neurooncology outpatient clinic, an outpatient clinic for patients with hemophilia and non-oncological blood diseases.
The ambulances are accessible by elevators from the children's reception or from the entrance to the children's section of the Motol University Hospital - are located on the 5th floor, node E
It is necessary to order individual patients for examination in one of the outpatient clinics by telephone at the telephone numbers listed below
Ordering patients for the first examination is possible with the recommendation of a general practitioner or other specialist.

It is not possible to order patients for a certain hour, especially due to the need for an initial laboratory examination.

The ordering of individual patients is coordinated by doctors and nurses of individual outpatient clinics due to the need for a number of specialized examinations and procedures, which must be solved individually.

The order of patients is determined by the doctor - it usually decides the time of processing laboratory samples, health status, or the availability of prescribed chemotherapy and blood derivatives.
Ordering - ambulance
Hematology - general clinic - phone 22443 6464 - Monday to Friday, only at times 10.30 - 12.00 a 13.00 - 14.30
Oncology - ordering a dispensary outpatient clinic - sister Bašeová - tel. 22443 6444 - Tuesday 7.00 - 8.00, Wednesday 7.00 - 8.00, Thursday 7.00 - 8.00 pm
Oncology - hemangiomas - ordering - station nurse Nováková - phone 22443 6586 - Monday 14.00 - 15.00, Tuesday 14.00 - 15.00, Thursday 14.00 - 15.00 pm
Acute complications of the patient at any time - tel. 22443 6445, - 6444, - 6448 during 7.00 - 15.30, od 15.30 - bed part - 22443 6425 or 22443 6431

Orders and consultations of patients monitored in oncology are also possible by email: vysetreni.kdho@fnmotol.cz

Ambulance type
Doctors

Hematology clinic - general

initial examination of newly arrived patients

outpatient care for long-term patients after hematological treatment (dispensary)

tract E of the children's monoblock FN Motol, 5th floor - polyclinic

tel .: + 420-22443-6464

ordering patients by phone: + 420-22443-6464 - Monday to Friday, only from 9:30 to 12:00

Oncology clinic - general

initial examination of newly arrived patients

outpatient care for children in ongoing cancer treatment

tract E of the children's monoblock FN Motol, 5th floor - polyclinic

tel .: + 420-22443-6445

Hematology hospital

outpatient care for children in ongoing hematological treatment

tract E of the children's monoblock FN Motol, 5th floor - polyclinic

phone: + 420-22443-6538,

Hematology clinic - transplantation

outpatient care for children after bone marrow transplantation

tract E of the children's monoblock FN Motol, 5th floor - polyclinic

tel .: + 420-22443-6537

Hematology clinic - bleeding diseases

care for children with hemophilia and other types of bleeding disorders

tract E of the children's monoblock FN Motol, 5th floor - polyclinic

tel .: + 420-22443-6537

Oncology clinic - aftercare

dispensary care of patients after oncological treatment

late consequences clinic

tract E of the children's monoblock FN Motol, 5th floor - polyclinic

tel .: + 420-22443-6444

Oncology clinic - hemangiomas

care for patients with hemangioma (once a month, Friday)

tract E of the children's monoblock FN Motol, 5th floor - polyclinic

tel .: + 420-22443-6586

Medical / dispensary oncology clinic

care for patients with Hodgkin's lymphoma

tract E of the children's monoblock FN Motol, 5th floor - polyclinic

Neurooncology clinic

care for patients with brain and spinal cord cancer

tract E of the children's monoblock FN Motol, 5th floor - polyclinic