Lenka Hůšová
Department of Neurosurgery for Children and Adults, 2nd Medical Faculty, Charles University and University Hospital Motol
Born: In Pacov
She studied: SZŠ May 5, Prague
Career idea: After more than 30 years of practice, I can say that the ideas I had about my profession have come true.
Most popular activity: Resting with the family after a working day
The idea of ​​an ideal holiday: Sea blue sea
Favorite movie/book: Good vintage
Motto: Don't regret anything you've done. You can only regret the things you didn't do.
When did you decide to become a nurse, and who or what gave you this idea?
Here's the classic answer you'll probably hear from most nurses, which is that they wanted to avoid studying math. This is also partially true for me, but my main intention was to help people. And I couldn't imagine that I would sit in an office all day, in short, I already knew at the age of 15 that I wanted to have a job that gave me meaning one day.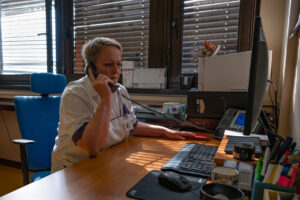 Do you remember your first working day at FNM?
Of course I remember. It's like when you start any other new job. Pervasive nervousness and actually pleasant tension. The work of a nurse is basically the same, specific procedures may differ in different hospitals. I always tried to remember everything the first time, which often led to the feeling of a full head like a balloon. Plus a lot of new faces and names. Surely everyone who has ever changed jobs knows this.
You work at the Neurosurgical Clinic of the 2nd Faculty of Medicine, UK and Motol Medical University. What brought you to this field?
I wanted to get to a slightly more dynamic position than the previous one. And I succeeded. At the same time, a person gets access to a wide range of cases and patients, and thus constantly educates and advances.
What is your typical working day like at the Neurosurgery Clinic?
Perhaps I cannot describe any day as typical. Every time I enter the door of the department, I am curious about what the new working day will bring. Every time I think that no one and nothing can surprise me anymore, a challenge comes.
What qualities and prerequisites do you think a person who decides to work in the healthcare sector should have?
First of all, he must be very patient, this is probably the case with all jobs where you work with people. They must also have the ability to make quick decisions and not panic. And ideally, he is also an empathetic person who cares about people and making them feel as comfortable as possible. You wouldn't even believe how much the friendly attitude of the staff helps patients to recover.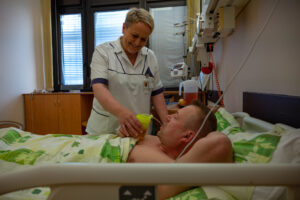 Do you remember any patient who pleased or amused you the most?
Paradoxically, I am always most pleased when a patient leaves and I know that we probably won't see each other again, that means he will be well. A lot of people, even in the face of a minor health complication, maintain an outlook on life and often a sense of humor. This makes me very happy and inspires me. I remember the patient who amused me the most recently, and he's actually not the only patient.
How do you relax, what do you think is the best rest?
I relax the most when I spend time with my family or friends somewhere in nature, with coffee, a glass of wine and a good book or on the beach by the sea.
What was your biggest childhood dream?
I wanted to be an actress, then fly into space and also understand the language of animals. So I have really come a long way from my childhood dream, but I definitely don't regret it.
Do you have a guaranteed recipe for stress management?
I don't think I have the recipe. Personally, it helps me quickly sort out my thoughts and evaluate situations. But this is really something that you either know or you don't. I also sometimes count to ten, but mostly when I'm already upset.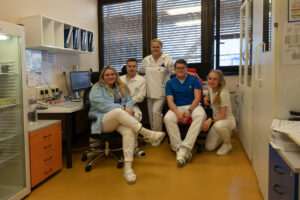 When was the last time you laughed heartily?
Recently with a friend when she was telling me some family stories. But otherwise, I laugh often, even here at work. As I said before, a lot of patients don't lack humor and are good pranksters.
Is there anyone who is life inspiration for you?
I probably won't tell you a specific person, I meet a lot of people every day and I take some inspiration from some of them every day.