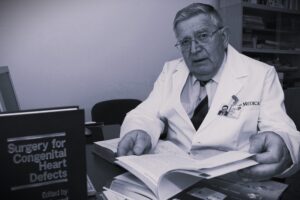 The Children's Cardiac Center of the 2nd Faculty of Medicine of the University of Warsaw and the Motol Medical University is saddened to announce that Professor Bohumil Hučín, the first head of pediatric cardiac surgery at our center (89-1977), has died at the age of 2004 after a long illness.
In addition to countless operations on children with congenital heart defects, the professor participated in the organization of pediatric cardiac surgery care, trained many other great cardiac surgeons, and was known for his extraordinary kindness and modesty.
Honor his memory!
MD Ondřej Materna, Ph.D.
The head
Children's Cardiac Center 2nd Medical Faculty of Charles University and University Hospital Motol
---
Prof. MD Bohumil Hučín, DrSc.
30. 3. 1934 - 8. 11. 2023
Alma mater: Faculty of General Medicine, Charles University in Prague (graduation 1958)
Award: 2010 JE Purkyně Award
With prof. In 1977, he founded the Specialized Department of Pediatric Cardiology and Cardiac Surgery with Milan Šamánek (today's Children's Cardiocentre 2. LF UK and FN Motol). He worked here as the head of the cardiac surgery department until 2004.