Basic information
Department of blood bank
Adult section, 2nd floor, node E / Adult Section, 2nd Floor, Block E
Primary: MD Eva Linhartová
Secretariat: phone: 224 435 164
The recommended procedure for transfusion can be downloaded here
Foreword:
Treatment with transfusion products is part of the treatment of some patients in inpatient departments of hospitals, but also part of treatment in outpatient care. In many cases, a transfusion saves patients the most precious thing - life.
Transfusion products are needed in patients with severe injuries, burns, many operations (orthopedic, cardiac surgery, transplantation, etc.), in the treatment of malignancies, some types of anemia, in the exchange transfusion of blood in the newborn, exceptionally in intrauterine transfusion of the fetus, in the treatment of blood clotting disorders, hemodialysis and a number of other diseases.
A major discovery that enabled a safe transfusion was the discovery of blood types. In 1901, the Viennese scientist Landsteiner discovered three blood groups - A, B and 0. A few years later, the Czech psychiatrist Dr. Jan Janský was responsible for the discovery of the fourth blood type AB. It was not until the 30s that four blood groups A, B, 0 and AB were introduced. This blood group system must be strictly respected during blood transfusions. In the Czech Republic, blood groups A (42%), 0 (39%), B (15%) and AB (4%) are most often represented. Another very important blood group system is the Rh system, discovered in 1941 by Landsteiner. This system is quite complicated, its most important antigen is the D antigen, which is responsible for whether we are RhD positive or RhD negative (D antigen is missing). The majority of the population is RhD positive (85%).
Blood group 0 RhD negative is the so-called universal group, the donor who has this group is a universal donor for transfusion products containing red blood cells. People with blood group AB are universal recipients of erythrocytes.
Transfusion products are products made from human blood collected from healthy donors in transfusion service facilities. Individual transfusion products are produced from whole human blood collected in the classical manner into erythrocyte transfusion products (containing red blood cells), frozen plasma and platelet transfusion products (containing platelets). Furthermore, transfusion preparations can be prepared by collection on a separator device, where only one blood component (platelets, red blood cells or plasma) is collected from the donor. The most common device samples include platelet transfusion products (containing platelets).
The goal of safe transfusion is to achieve the maximum therapeutic effect with the least possible risk to the recipient from side effects.
The missing blood component of the patient / transfusion recipient should be replaced with a transfusion product with minimal admixture of other blood components.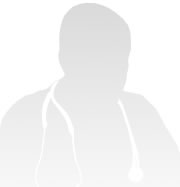 MD Eva Linhartová
tel: 224 435 165
Secretariat 224 435 164
Expedition 224 435 160
About the workplace
Department history
In the 50s and 60s, pre-transfusion examinations and transfusion preparations for Motol Hospital patients were provided by a blood warehouse located in the old building, in Hall H, later in Hall B. The blood warehouse was part of an internal department headed by Prof. MUDr. Jonas and later prim.MUDr.Beran.
In 1970, after the commissioning of the children's monoblock and subsequently in 1971, the hematology laboratory of the Motol Hospital, the blood warehouse and the hematology laboratories of the 1990st and 80nd Children's Clinics merged and a new Department of Clinical Hematology and Blood Transfusion was established. MUDr. Sieglová and after this year MUDr. Petrtylova. As part of the general plan of Prague healthcare, a project was being prepared in the 1997s for the construction of a separate transfusion station with a sampling, production and laboratory part. However, this project was not implemented and the blood bank had to be moved to the current premises with new and modern equipment for storage of transfusion products, laboratory instruments and an information system with a program for laboratory operation due to the increase in laboratory tests after the commissioning of the new part of the adult hospital, records of transfusion products and collection of autologous blood.
In 2000, the Blood Bank Department became independent.
Workplace characteristics
The Department of the Blood Bank of the University Hospital in Motol is part of the joint investigation and treatment sector.
The department is responsible for the tasks of the transfusion service at the University Hospital in Motol and provides services for patients in the inpatient and outpatient departments of clinics, centers and wards.
At two-year intervals, the Blood Bank Department successfully undergoes inspections by the State Institute for Drug Control in Prague (SÚKL) to obtain a license to operate for blood collection, processing of blood collection for autologous whole blood and laboratory inspections pursuant to Act No. 378/2007 Coll.
In 2017, our department successfully completed the Supervisory Audit B of NASKL and continues to increase quality in accordance with the requirements of the ČSN EN ISO 15189: 2013 standard. In January 2009, FN Motol obtained a certificate of accreditation from SAK CR with subsequent re-accreditation in the following years and most recently in 2017.
Every year, the Blood Bank Department very successfully participates in the SEKK external quality control system for laboratory immunohematological examinations, on the basis of which it obtains certificates for basic and specialized immunohematological examinations.
The Blood Bank Department is accredited for specialization education in the field of Hematology and Transfusion Medicine for Physicians and Non-Physicians.
The blood bank department provides:
purchase of transfusion products (erythrocytes, clinical plasma, platelets, granulocytes, but also products for the needs of intrauterine and exchange transfusions) for patients of the Motol University Hospital
standardized stocks of transfusion products for Motol University Hospital patients
performing routine immunohematological examinations (pre-transfusion examinations - blood group examinations, antibody screening, compatibility tests)
performing specialized immunohematological examinations (identification of anti-erythrocyte antibodies, antigen typing, AIHA diagnostics, elution, autoabsorption, etc.)
prenatal examination of pregnant women
diagnosis of HON (hemolytic disease of newborns)
cooperation with the reference immunohematological laboratory of ÚHKT Prague
irradiation of transfusion products on the Gammacell 3000 ELAN device
autologous whole blood collection for patients of the Motol University Hospital and Na Homolce Hospital before the planned operations
consultancy service in transfusion medicine and cooperation with clinical branches of the Motol University Hospital in ensuring effective hemotherapy, including monitoring of side effects and resolution of post-transfusion reactions
seminars in the field at its own and other clinical workplaces
training for physicians and non-physicians of the Motol University Hospital in the field of transfusion medicine
teaching students of the 2nd Faculty of Medicine, Charles University, CTU, VOŠ, SZŠ

postgraduate teaching for doctors and NZO
Blood Bank Department Objectives:
development of the workplace in accordance with current trends in transfusion medicine

meeting the requirements of SÚKL, NASKL, JACIE and accreditation standards SAK ČR
quality teaching of professional practice
improving mutual information with clinical disciplines
Autotransfusion
Information for patients:
Autotransfusion is a blood transfusion that comes from the circulation of a patient / recipient.
In the world of autotransfusion, it developed greatly in the 70s and 80s. In our country, the first autotransfusions also began to take place in these years, but they did not reach the main boom until the 90s. Autotransfusion consumption at FN Motol has also undergone its development. In the 20s, they were performed sporadically (80 samples per year), and in the 60s, as in other medical facilities, there was a gradual increase, especially in 90 after the I.ortopedická clinic moved to Motol. In recent years, we have collected approximately 1997% of all autotransfusions for patients of orthopedic clinics of the 95st and 1nd Medical Faculty of Charles University before orthopedic operations (mainly hip and knee replacements).
If your doctor has offered you this option, use it. Prior to the planned operation, this is the most convenient way to provide blood to supplement blood loss during or after surgery. We can also take autotransfusions in patients of other surgical specialties after a doctor's recommendation.
In our hospital we collect whole blood, which is not further processed. We can also perform several samples for the planned operative procedure (technically, one sample is called a transfusion unit), but a maximum of three. The usual interval between individual donations is one week, the last blood collection for autotransfusion is performed one week before the planned operation. The amount of blood collected and the collection schedule are determined by the physician by autotransfusion based on the surgeon's request, the results of the laboratory examination, the clinical condition and the patient's weight. We take a maximum of 450 ml for one collection, sometimes 350 ml for women and 250 ml for children.
Blood for autotransfusion is collected in special blood bags containing an anticoagulant solution. This bag is marked with a label with patient / recipient identification and product information. The collected blood for autotransfusion is then stored in a separate monitored refrigeration device and its expiration time is 35 days.
We must not pass blood collected for autotransfusion to another patient.
Important information:
Where are autotransfusions performed?
Autotransfusion collection is performed in the building for adult patients of the University Hospital in Motol in the section of autotransfusion Department of the Blood Bank on the 2nd floor, node E.
When are autotransfusions performed?
Autotransfusion collection is performed from Monday to Friday from 8 am to 13 pm.
The date of collection must be arranged in advance with the doctor or nurse of the autotransfusion.
You can order by phone at 2 2443 5179 or in person.
What are the benefits of autotransfusion?
Each treatment method, including autotransfusion, has its advantages, but it is also necessary to take into account certain risks. The benefits outweigh the autotransfusions. One of the advantages we put in the first place is the prevention of the transmission of serious infectious diseases. Another advantage is that alloimmunization cannot occur during autotransfusion, which is the formation of antibodies against red blood cells that could cause a post-transfusion reaction in the future. This situation can occur in patients who receive repeated blood transfusions from donors. A great advantage is the collection of autotransfusion in these patients with antibodies, if they are able to donate autotransfusion. Another advantage is that there is no age restriction as with regular donor donations. This means that we can take the autotransfusion from both a child and a sick over 70 years old.
Who can't have autotransfusion taken away, what are its contraindications?
We cannot remove autotransfusion from patients:
with acute infection
with positive results for HIV, hepatitis B and hepatitis C and syphilis
patients with acute myocardial infarction
with unstable angina pectoris
significant narrowing of the left coronary artery
with tight aortic stenosis
cyanotic heart disease
untreated aortic hypertension
The final decision on the collection, the amount of blood collected is given by the autotransfusion physician, who evaluates the health status and laboratory results of the examination (KO, urine).
How to eat before taking?
24 hours before your own diet, do not eat fatty, hard to digest foods. You can eat bread, pastries, cooked pasta, rice, potatoes, vegetables, lean meats and the like. Drink plenty of fluids. Alcohol is prohibited. Have tea, croissant, jam on the day of collection (unless you are diabetic). Drink half a liter of fluids (tea, water).
What do I need to bring to the collection?
a request for sampling, issued by your specialist (orthopedist, urologist ...) and on which the number of required samples and the date of the planned procedure is indicated.
results of preoperative examinations (blood count, urine chemically + sediment, ECG, conclusion of internal examinations, pediatric examination in children
health insurance card
light snacks and about 1 liter of liquids (tea, water, juice)
Other:
If you take any medication regularly, do not take it in the morning on the day of collection. Bring the medication with you, you will take it after collection. If in doubt, consult your doctor. It is advisable that an escort comes with you. Accompaniment is necessary for children and adolescents under 18 years of age! You must not drive a motor vehicle for 4 hours after collection. on the day of collection, relax, drink more fluids and eat a diet rich in protein (yogurt, cottage cheese, cheese, etc.). Your doctor will advise you on the possible administration of the iron-containing product.
If for some reason you are unable to attend the scheduled collection, please let me know by phone in advance. Under no circumstances should you go for withdrawals with temperatures (acute infection) - sampling is not possible.
Thank you in advance for your good cooperation and we wish you successful execution of the planned operational performance.
Seminars and professional events
Department seminars
Plan
Interesting immunohematological findings, ECE results, reports from educational events, etc. are presented in the form of a seminar as part of morning reports or operational meetings of the workplace as needed and occurring throughout the calendar year.
MD Eva Linhartová
M.Sc. Martin Matejček
OKB FN Motol
Professional events in the Czech Republic
Teaching and specialization
Teaching students of the 2nd Faculty of Medicine, Charles University
The blood bank department is involved in teaching:
II. and 2th year of medical students of the XNUMXnd Faculty of Medicine, Charles University
XNUMXst year of bachelor's study in the field of General Nurse
CTU students in the field of Medical Laboratory Technician
students of VOŠ and SZŠ Alšovo nábřeží in the field of Medical Laboratory Technician and Laboratory Assistant
Specialization in Clinical Hematology and Transfusion Service
The Blood Bank Department is accredited by the MZČR for theoretical and practical training of physicians in the field of Hematology and Transfusion Service according to Act 95/2004 Coll.
The Blood Bank Department is accredited by the Ministry of Health of the Czech Republic for the practical part of the specialized educational program for medical laboratory technicians in the field of Clinical Hematology and Transfusion Service according to Act 96/2004 Coll. Accreditation was granted for practical teaching a special module of the educational program "Laboratory methods in immunohematology".
Odd. Motol Blood Bank has been accredited since problems practical part of teaching within the specialized education of medical laboratory technicians in the field of Clinical Hematology and Transfusion Service (immunohematology).
Guarantor of professional practice at FN Motol (for medical laboratory technicians in the field of Clinical Hematology and Transfusion Service):
Tel: 2 2443 5180, MT: 737 226 607
Professional internship supervisor:
Tel: 2 2443 5160
If you are interested in an internship at our accredited workplace, please contact the guarantor of professional practice.
Laboratory quality certificate
Certificate of compliance with the conditions of the Audit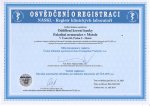 Confirmation of registration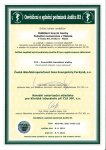 Certificate of compliance with the conditions of Audit II