The Children's Cardiac Center of the 2nd Faculty of Medicine of Charles University in Prague and the University Hospital in Motol is an integrated cardiology and cardiac surgery department with nationwide coverage, dealing primarily with diagnosis and treatment of congenital and acquired cardiovascular diseases, cardiac arrhythmias, cardiac and circulatory disorders in a growing and developing individual from the fetal period to 18 years of age. It is also involved in the diagnosis and treatment of adults with congenital heart defects.
Care provided
A. Non-invasive and invasive diagnosis of heart disease and drug treatment, including prenatal diagnosis and treatment.
B. A full range of operations for congenital heart defects on the open and closed heart, including the most complex defects. 400-500 patients, from immature newborns to adults with congenital heart defects, are operated on annually.
C. A wide range of therapeutic catheterization interventions, such as dilatation of narrowed valves and blood vessels, occlusions of heart septal defects and aberrant vessels, and catheter ablation of arrhythmogenic substrates. On average, around 200 catheterization interventions are performed annually. Catheterization interventions account for about 30% of all medical procedures.
D. Implantation of pacemakers and implantable defibrillators.
Brochure to download:
The head

prof. MUDr. Jan Janousek, Ph.D.
e-mail: jan.janousek@fnmotol.cz
secretariat
phone: 2 2443 2900
fax: +2 2443 2920 XNUMX
Deputy Head of Teaching and Research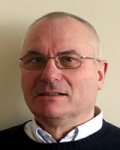 prof. MUDr. Vaclav Chaloupecky, CSc.
e-mail: v.chaloupecky@fnmotol.cz
Head nurse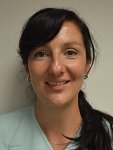 M.Sc. Jana Matušíková
e-mail: jana.matusikova@fnmotol.cz
phone: 2 2443 2905
Clinic manager

Ing. Miroslav Krejcir, MBA
e-mail: miroslav.krejcir@fnmotol.cz
phone: 2 2443 2966
Cardiology department
Primary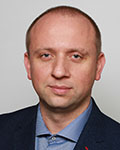 doc. MUDr. Peter Kubus, Ph.D.
e-mail: peter.kubus@fnmotol.cz
Resuscitation and intensive care unit

Chief doctor
MD Pavel Vojtovič
e-mail: pavel.vojtovic@fnmotol.cz
Interventional cardiology

Chief doctor
MD Ondřej Materna Ph.D.
e-mail: ondrej.materna@fnmotol.cz

Echocardiography and prenatal cardiology
MD Viktor Tomek, Ph.D.
e-mail: viktor.tomek@fnmotol.cz
Arrhythmology
Chief doctor
doc. MUDr. Peter Kubus, Ph.D.
e-mail: peter.kubus@fnmotol.cz
Ambulance

Chief doctor
MD Petr Hecht
e-mail: petr.hecht@fnmotol.cz
Doctors of the cardiology department (alphabetically):
MUDr. Klara Fiala
e-mail: klara.fiala@fnmotol.cz
MD Jiří Gilík
e-mail: jiri.gilik@fnmotol.cz
MD Jiří Hostaš
e-mail: jiri.hostasa@fnmotol.cz
MD Jiří Houda, Ph.D.
e-mail: jiri.houda@fnmotol.cz
MUDr. Vaclav Chaloupecky Jr.
e-mail: vaclav.chaloupecky@fnmotol.cz
MD Denisa Jičínská
e-mail: denisa.jicinska@fnmotol.cz
MUDr. Michal Jicinsky
e-mail: michal.jicinsky@fnmotol.cz
MD Tibor Klein
e-mail: tibor.klein@fnmotol.cz
MD Karel Koubský, Ph.D.
e-mail: karel.koubsky@fnmotol.cz
MD Jan Kovanda
e-mail: jan.kovanda@fnmotol.cz
MD Ondřej Materna
e-mail: ondrej.materna@fnmotol.cz
MD Nina Molíková
e-mail: nina.molikova@fnmotol.cz
MD Irena Otáhalová
e-mail: irena.otahalova@fnmotol.cz
doc. MD Oleg Reich, Ph.D.
e-mail: oleg.reich@fnmotol.cz
MD Vladimíra Švábová
e-mail: vladimira.svabova@fnmotol.cz
MD Terézia Tavačová
e-mail: terezia.tavacova@fnmotol.cz
MD Petr Tax
e-mail: petr.tax@fnmotol.cz
Cardiac surgery department

Primary
MD Roman Gebauer
e-mail: roman.gebauer@fnmotol.cz

Physicians of the cardiac surgery department (alphabetically):
MD Žaneta Bandžuchová
e-mail: zaneta.bandzuchova@fnmotol.cz
MD Petr Bukovsky
e-mail: petr.bukovsky@fnmotol.cz
MUDr. Tomas Matejka
e-mail: tomas.matejka@fnmotol.cz
MD Rudolf Poruban, Ph.D.
e-mail: rudolf.poruban@fnmotol.cz
prof. MUDr. Tomas Tlaskal, CSc.
e-mail: tomas.tlaskal@fnmotol.cz
MD Tereza Vavříková
e-mail: tereza.vavrikova@fnmotol.cz
Extracorporeal circulation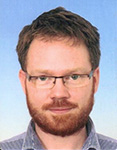 Leader
Ing. Miroslav Lozek
e-mail: miroslav.lozek@fnmotol.cz
Team members:
RNDr. Ivana Black
MD Jitka Kuzinová
Bc. Iva Kaulerová
M.Sc. Olena Protsenko
How to order for diagnosis and treatment
Only a regional cardiologist orders patients for non-surgical examination, in writing or by telephone. In urgent cases, the pediatrician or other medical facility is also called by phone.
Patients are invited for examination in writing.
Adress:
Children's Cardiac Outpatient Clinic
University Hospital in Motol
V Úvalu 84
150 06 Prague 5
tel.+ 420 22443 2975
Email: petr.hecht@fnmotol.cz
Where to find us
Cardiology outpatient clinic: polyclinic, 6th floor, wing E (6E)
Heart rhythm clinic: polyclinic, 6th floor, wing E (6E)
JIRP: children's monoblock, 6th floor, wing A (6A)
Cardiology department, patient admission: children's monoblock, 6th floor, wing C (6C)
ECHO: children's monoblock, 6th floor, wing D (6D)
Secretariat: children's monoblock, 8th floor, wing D (8D)
Donation account
account number: 50008-17937051 / 0710, vs 2129
Sweethearts
Civic association of parents our patients Sweethearts: www.srdickari.cz
A guide to heart disease in children
Performance numbers and results
Teaching
Events and seminars
Publications
Professional companies
Accreditation Commission of the Ministry of Health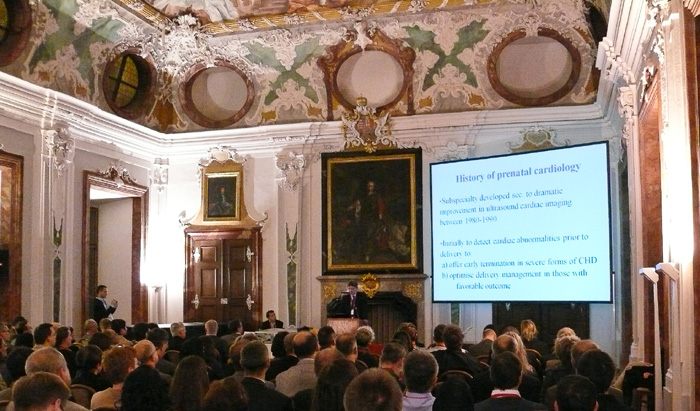 Cardiology department
18 beds, including 6 monitored beds for intermediate cardiac care
4 beds to accompany hospitalized children
Intensive care and resuscitation unit
12 beds for postoperative resuscitation and cardiac intensive care
Cardiac surgery department
2 operating rooms with extracorporeal circulation
Department of Cardiopulmonary Functional Diagnostics
echocardiography laboratory
catheterization laboratory
electrophysiological laboratory
Ambulance
cardiology outpatient clinic
heart rhythm clinic
Department of Experimental Cardiology
Medevac
Since 1999, the FNM Children's Cardiac Center has been participating in the MEDEVAC program implemented by the Ministry of the Interior, which serves for the humanitarian evacuation of disabled people from war-affected areas. The program is designed mainly for seriously ill children who cannot be treated in local conditions, and treatment in the Czech Republic will save their lives or significantly improve its quality. Under the program, we treated 124 children, 36 from Iraq, 31 from Kosovo, 18 from Kenya, 12 from Afghanistan, 8 from Cambodia, 8 from Syria, 7 from Libya, 3 from Burma and 1 from Pakistan. Cardiac Center physicians participated in a total of 14 missions to these countries.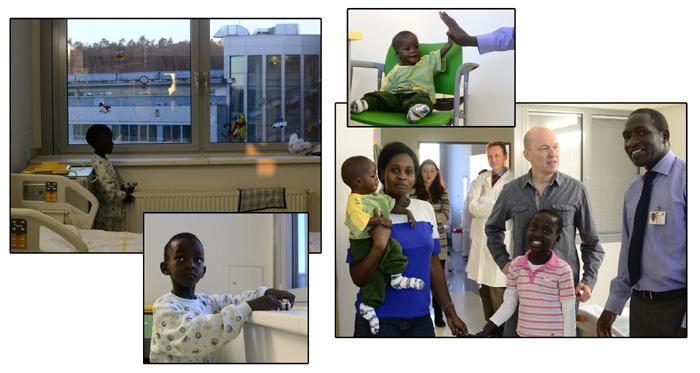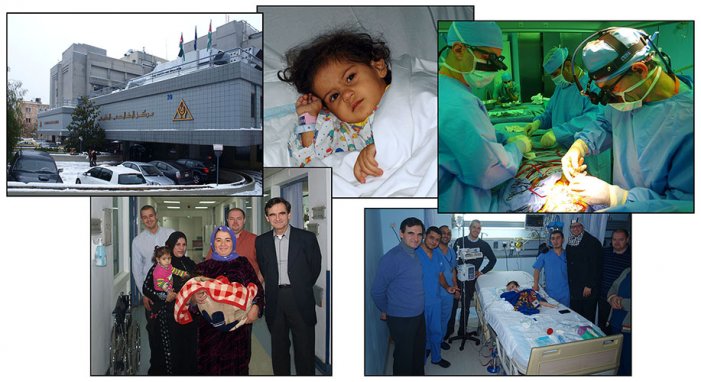 Mater Hospital Nairobi
Since 2011, doctors and nurses from the Children's Cardiac Center have been helping diagnose and treat children with congenital heart defects in Kenya. So far, 37 children and 4 adults have been operated on within the project. Mater Hospital in Nairobi has long sought the availability of cardiac surgery for the poorest children in the country. All our experts have waived their fees for their work on the project to enable the treatment of these children.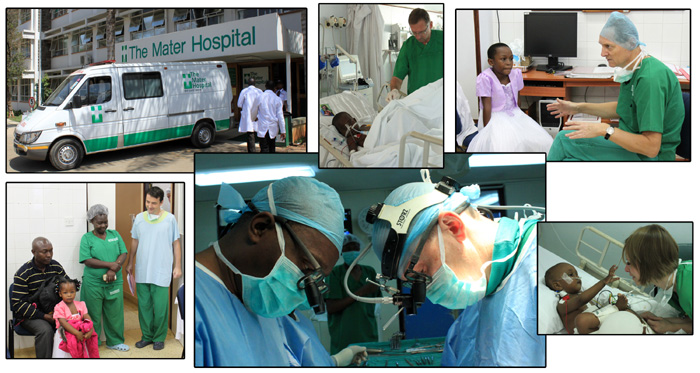 The beginnings of pediatric cardiology and cardiac surgery
She built the basics of modern pediatric cardiology at the Prague II. children's clinic, run by Jiří Brdlík and later Josef Houšťek, Hana Padovcová. It was not only hospital care, but also a wide network of cardiology clinics, then mainly for pediatric post-rheumatic heart disease. Her collaborator was Imrich Bor. In 1947, Padovcová, together with radiologist Dr. Horák and ds Františka Obšilová first catheterization of the heart in an older child; however, other invasive examinations were performed very rarely.
In the XNUMXs, he began working in the cardiology department Milan Shamanek, an experienced pediatrician who quickly mastered invasive examination techniques not only in older children, but also in infants with critical heart defects. He built an independent cardiopulmonary laboratory within the Children's Hospital in Charles University, providing the diagnostic methods available at the time (cardiac catheterization, angiocardiography, radioisotope examinations and examinations of lung functions). His collaborators were Alois Zapletal, Stanislav Tůma and Cyril Ruth. In 1967, Šamánek performed the first balloon atrioseptostomy on a three-day-old newborn with a life-threatening congenital heart defect (transposition of large arteries). The performance improved blood mixing in the atria and thus enabled the child to survive.
In 1970, as a result of the construction of the Nuselský Bridge and the subsequent liquidation of the hospital in Karlov, the cardiology department and the cardiopulmonary laboratory moved to the newly opened children's building at the Motol University Hospital. The cardiology department had within II. children's clinic only 10 beds for older children. The possible hospitalization of infants was problematic, only occasional beds were available in the infant ward. In the same year, Padovcová retires and is entrusted with the management of the cardiology department and the outpatient clinic Marie Voříšková, who at that time also taught at the Faculty of Pediatrics. Věra Hroboňová and Jana Goetzová cooperate with Voříšková.
Within the cooperation of the cardiopulmonary laboratory and the cardiology department, the diagnosis of even the most complex defects and indications for surgery were significantly refined (eg in 1975, 175 older children and 130 infants and newborns were admitted for examination). However, there was no link to cardiac surgery; operations were usually performed palliatively at the surgical clinic of prof. Kafka in Karlovy Vary.
Vaclav Kafka still as an associate professor at the clinic of prof. In 1949, Diviš operated for the first time on a child's congenital heart defect (open arterial duct ligation). In 1954, the Department of Pediatric Surgery of the Faculty of Pediatrics was newly established, and its head became Václav Kafka, who founded his own school of pediatric cardiac surgery in Prague. His collaborators were Milan Brodský, Ludmila LeBreux, Bohumil Hučín, Bohuslav Fišer and Jaroslav Stark. In 1958, Kafka introduced open heart surgery with temporary circulatory arrest in hypothermia, and in 1959, together with Brodsky, he performed the first radical extracorporeal surgery on a patient with an atrial septal defect. In 1968, Hučín and Štark launched a program of cardiac surgery on infants.
A major shortcoming in the care of children with congenital heart disease in the early XNUMXs in Motol was the distance of cardiac surgery, which remained in Karlov. The patients for the operation were transferred to Karlov and after the operation they were transported back to Motol, which was very difficult, especially for infants. For this reason, postoperative care was also very difficult, especially because no intensive care unit was available. The Children's Cardiac Center brought a comprehensive solution.
Opening and first years of the Children's Cardiocentre
On May 16, 1977, the Specialized Department of Pediatric Cardiology and Cardiac Surgery (SPPKK) was opened at the Motol University Hospital. He becomes the head of the workplace Milan Shamanek, cardiac surgery leads Bohumil Hučín and is appointed head of the cardiology department Marie Voříšková. SPPKK, later renamed the Children's Cardiac Center, is a completely independent integrated cardiology and cardiac surgery workplace with nationwide coverage. The program has a completely new comprehensive system of care for children with heart and vascular diseases, especially care for newborns and infants with urgent (life-threatening) congenital heart defects. Mutual cooperation with a wide pediatric terrain, a network of cardiology clinics and a specialized center in Prague is perfectly developed.
SPPKK consisted of cardiac surgery, cardiology department, cardiopulmonary laboratory and ambulance, led by Božena Zbořilová. Hučín gathered around itself a team of cardiac surgeons: Bohuslav Fišer, Tomáš Hoňek, Jaroslav Špatenka, Tomáš Tláskal, Pavel Horváth; later for example Martin Kostelka or Tomáš Hájek. Václav Chaloupecký, Tomáš First, Jaroslav Hruda, Ivan Vislocký, Zdeněk Slavík, Jan Janoušek or Helena Bartáková started in cardiology and Jan Škovránek, Stanislav Tůma, Alois Zapletal, Petr Tax, Oleg Reich, Jan Marek, Vít grew up in the cardiopulmonary laboratory under Šamánek's leadership. Rázek or Jan Šulc.
The operation was first started temporarily, the wards were temporarily in the 7A wing and together with the improvised postoperative ward had 15 beds. In September 1977, the number of beds increased to 20, and only on June 1, 1978, the inpatient department was moved to the final premises of the 8C wing. The reduction in bed capacity also concerned the intensive care unit, which instead of the planned eight beds started with only four, as there were not enough qualified nurses.
In the first year of activity (from 16.5.1977 to 16.5.1978) 325 patients were hospitalized; however, more and more children were admitted for examination than for surgery, even for urgent defects. Newborns were operated on infrequently, only palliative procedures were performed on infants. There were no extracorporeal operations, so none of the patients could be indicated for radical surgery. The mortality of the examined persons awaiting the operation was high, the operative mortality itself was lower:
| patient | admitted for examination | died | admitted to the operation | died |
| --- | --- | --- | --- | --- |
| newborns | 60 | 27 | 6 | 3 |
| infants | 99 | 25 | 40 | 10 |
| older children | 50 | 3 | 70 | 6 |
| total | 209 | 55 | 116 | 19 |
Tab. 1: The first year of activity of the Children's Cardiac Center of the Motol University Hospital
The survey shows a significant predominance of newborns and infants - out of the total number of 325 patients, 205 children were younger than 1 year and only 120 older.
The first patient admitted on May 16.5.1977, 3.3.1976 was Jana V., born on March XNUMX, XNUMX with a diagnosis of ASD sec. confirmed radiocirculography (later successfully radically operated).
The first operated patient was Renata S., born on July 1.7.1972, 15.6.1977, operated on June XNUMX, XNUMX, in which Bohumil Hučín performed an open arterial duct ligature.
After more than a year (August 17.8.1978, 1978), Hučín performs the first cardiac surgery with extracorporeal circulation (RF, closure of the atrial defect), and since the end of XNUMX, neonates and infants have also started operating in extracorporeal circulation.
At the end of 1979, the Children's Cardiac Center already had a number of successful operations with urgent defects with a left-right short circuit and uncorrected transposition of large arteries. Older children undergo other complex defects - Fallot's tetralogy, AV channel anomalies and severe valve defects.
In the next two years, operations in the extracorporeal circulation, circulatory arrest and deep hypothermia clearly predominate, while a number of operations at the Motol Children's Cardiac Center were performed for the first time in what was then Czechoslovakia.
| operation | number | died within 30 days | [%] |
| --- | --- | --- | --- |
| in extracorporeal circulation | 156 | 12 | 7,6 |
| without extracorporeal circulation | 101 | 7 | 6,9 |
| peripheral vessels | 13 | 0 | 0 |
| total | 270 | 19 | 5,4 |
Tab. 2: Surgical procedures of the Children's Cardiac Center of the Motol University Hospital in 1981
Since then, of course, the development of pediatric cardiology and cardiac surgery has made it possible to significantly improve outcomes, despite the fact that even the most complex congenital heart defects, which were considered inoperable at the time covered in this article, are operated on.
MD Marie Voříšková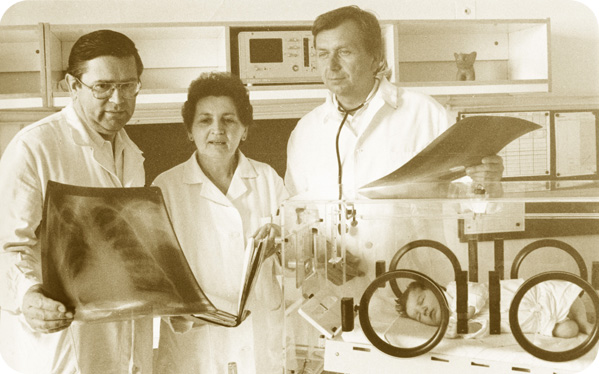 Prof. MUDr. Jaroslav Hruda, CSc., Amsterdam, The Netherlands
Prof. MUDr. Martin Kostelka, Leipzig, Germany
Prof. MUDr. Jan Marek, Ph.D., London, United Kingdom
Doc. MUDr. Zdeněk Slavík, London, United Kingdom
MUDr. Roman Antonín Gebauer, Leipzig, Germany
Thank you for your interest in working at a prestigious workplace in the Czech Republic


Learn about the terms and benefits you get - and if you like them, send us your CV to jana.matusikova@fnmotol.cz.
We are currently looking for colleagues for the following positions:
General, children's, practical nurse at JIRP
Paramedic at JIRP
General, pediatric, practical nurse in a standard ward
General nurse, perioperative nurse in the operating room
What you must meet:
Professional competence according to Act No. 96/2004 Coll.
Specialized competence in the field of pediatric nursing, intensive care in pediatrics, perioperative care - is NOT a condition, but an advantage
You are proactive and have a natural interest in continuous (self) education in the field
You have an active interest in patients and the field, it makes you happy to help others
You are attracted by a diverse and "action" type of work (every day at the Children's Cardiac Center is different - and otherwise interesting)
You are a team player and you realize that many other positions depend on you
You are communicative
What we offer:
Prestigious work at the only workplace of this type in the Czech Republic with unique world results

Modernly equipped workplace with complete care for children with heart disease (including heart transplantation)

Very good salary conditions with the possibility of bonuses and bonuses for excellent work results, work in a difficult environment, shift work (including night work), work on weekends and holidays, overtime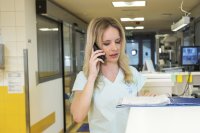 Support and individual training by an experienced nurse who will make sure you always feel safe and know exactly what you are doing - for as long as you need

Specialization study and lifelong learning FREE - we will pay you additional specializations, and we will support you in active and passive participation in professional conferences in the Czech Republic and in the world
Opportunity to participate in foreign charitable cardiac surgery missions
You are close to work - we offer the possibility of affordable accommodation directly in the Motol University Hospital (for graduates CZK 500 per month for a double room for the entire first year) and convenient meals in the canteen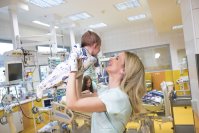 Financial contributions for holidays, children's recovery events, glasses, dental hygiene, educational activities, sports and culture (we support care for mind and body)
50% contribution to the annual public transport coupon

Interest-free loans of up to CZK 300 for housing or reconstruction
Supplementary pension insurance up to CZK 600 per month
Secretariat
phone: 2 2443 2900
fax: +2 2443 2920 XNUMX
e-mail: detske.kardiocentrum@fnmotol.cz
Other contacts:
Ambulance (patient ordering)
phone: 2 2443 2975
Patient admission
phone: 2 2443 2969
Outside working hours (consulting services / emergency income)
phone: 2 2443 2970
Adress
Children's cardio center
University Hospital in Motol
In Úval 84
150 06 Prague 5
Location
Cardiology outpatient clinic: children's polyclinic, 6th floor, wing E (6E)
Heart rhythm clinic: children's polyclinic, 6th floor, wing E (6E)
Cardiology department: children's monoblock, 6th floor, wing C (6C)
Echocardiography: children's monoblock, 6th floor, wing D (6D)
JIRP: children's monoblock, 6th floor, wing A (6A)
Secretariat: children's monoblock, 8th floor, wing D (8D)
Donation account: account number: 50008-17937051 / 0710, vs 2129